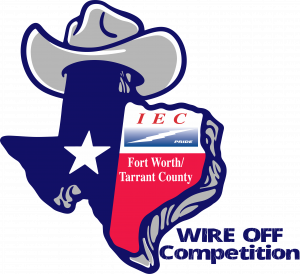 "Wire-Off" | Apprentice of the Year Competition
The IEC Fort Worth/Tarrant County Apprentice of the Year Competition is for graduating students of the IEC. Prizes will be awarded for the top three places.
Requirements:
Work for an IEC Member in good standing
Have completed the classroom portion of the IEC Apprenticeship Program
Have six years or less experience in electrical work as of August 1, 2020.
Electrical work is defined as any labor used in installing,  maintaining, or extending an electrical wiring system and the appurtenances,  apparatus, or equipment used in connection with the use of electrical energy in, on, outside, or attached to a building, residence, structure, property or premises. (This one requirement is for the National competition; it does not apply to IEC Fort Worth/Tarrant County chapter's competition.)
The local competition winner will go on to compete in the IEC National Apprentice of the Year Competition October 6-9, 2021, in Denver, CO.
IMPORTANT DATES:
Friday, April 2, 2021
Applications and Questionnaire deadline
You may turn them into the office or to your instructor
or email to admin@iecfwtc.org
Tuesday, April 13, 2021, at 6:15 PM
Wire-Off Interviews
Interview with the Apprenticeship & Training (A&T) Committee
Friday, April 23, 2021, from 6:00 to 10:00 PM
Written Exam
Don't forget your NEC® 2020 Code Book and Calculator; the test will be done on Classroom Performance Systems (CPS)
Saturday, April 24, 2021 - 8:00AM till 3:00 PM    
Wire-Off Competition
All Events will be held at the IEC Fort Worth/Tarrant County Training Center 5811 E. Berry St., Fort Worth, Texas 76119.
If you have questions please contact Casey Hunzeker, Training Director at 817-496-8422.
2020 - Colton Little
2019 - Michael Sauer
2018 - Thomas Kile
2017 - Kelly Sustaire
2016 - Chas Putnam
2015 - Benjamin Williamson
2014 - Weldon Farra
2013 - Michael Smelser
2012 - Brandon Perkins